President Ryan Smith shared this message on social media about student athlete, Lexi Woods.
I want to share a story about one of Rio's incredible student-athletes. Lexi Woods is #23 on the Women's Basketball team. She's from Waverly, OH and a 2018 graduate of Paint Valley HS in Bainbridge. Sounds pretty typical, right.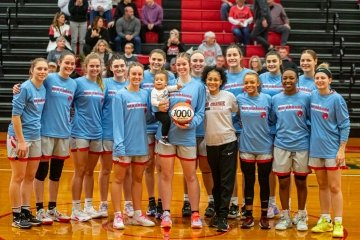 In 2018 Lexi took a medical redshirt in her first season and in 2019 she recorded the best freshman total point scoring season at Rio and was second-team all-conference. In 2020 she was named RSC first team all-conference. Here comes the plot twist: In 2021 she sat out the season and gave birth to her son Zakai Alan Woods-Gabriel, all the while continuing her education (3.58 GPA) and vowing to play again for the RedStorm. I will admit, I often thought she didn't fully comprehend how her life was about to change in an amazing way and that her goals might adjust too. I suppose I underestimated her determination and persistence to get back into playing shape & compete at a high level. In 2022 she returned for her 3rd season of eligibility and scored her 1,000th career point on January 10th. She is an integral piece of a great team (20-3 and ranked #13 nationally) and is finding a way to balance being a great Mother, student and athlete. Most would agree that any one of those titles is challenging enough but not for this young lady. She would tell you that she could not do this without the support and love of her parents, Howie & Tina Woods, her sister, brother and family along with her coaching staff, teammates and friends. At Rio we often talk about how special the "Rio Family" is but to witness the impact that little Zakai has had on this team and campus has been nothing short of amazing.
Thank you, Lexi, for showing everyone that with the right motivation and persistence, you can be successful in balancing so many responsibilities and have it all. You have earned everyone's respect & we look forward to watching you continue your amazing career at Rio and incredible life journey!