Rio Grande student Alejandra Garrett recently passed her citizenship test and became a United States Citizen. Garrett is currently majoring in AYA English Education with the hopes of becoming a Spanish teacher.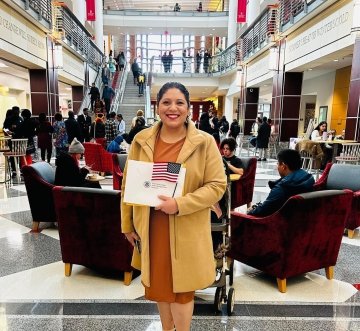 Alejandra was born in Chihuahua, Mexico. She moved to El Paso, Texas when she turned the age of five. At the age of twenty-five and in 2008, she married her husband and moved to Ohio.  
When asked what it meant to her becoming a U.S. Citizen, Garrett stated, "I have been in the U.S. for 35 years; I have grown up here and love this country but always felt like I didn't entirely belong. Being a citizen closes a journey that my mother began for us 35 years ago and although she passed before she can see this dream become reality, this is in great part for and because of her as well." She continued, "My citizenship gives me many new opportunities, with the most important being able to vote for the very first time in my life, and I am very excited to finally be able to participate in this great civic duty." 
Becoming a U.S. Citizen is no easy task. It requires extensive background checks and government tests before the final step of being awarded citizenship.