Exploring Business and Culture: Rio Students Embark on Unforgettable European Journey
This past spring, Dr. Alan Cook, Associate Professor at University of Rio Grande and Rio Grande Community College's Emerson E. Evans School of Business, spearheaded a transformative one-week study abroad trip to Europe. The focus was on unraveling the intricate interplay between Business and Culture in the vibrant cities of London and Paris.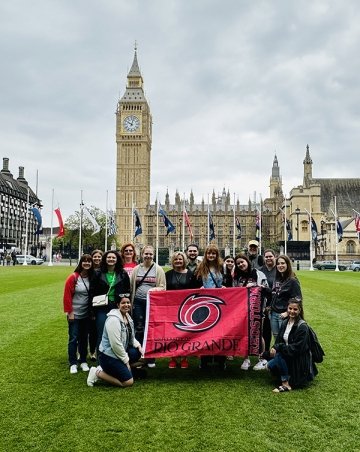 In London, the group delved into the city's rich tapestry, visiting iconic landmarks such as The Strand, Trafalgar Square, and Buckingham Palace. The adventure didn't stop at sightseeing—students also engaged in exclusive sessions with business leaders, including Jonathan Keeling, Chief Growth Officer at Crowdcube, who shed light on Europe's largest equity investment platform.
The journey continued with a Eurostar train ride through the Channel Tunnel to Paris. A walking tour through the Latin Quarter revealed the Notre-Dame Cathedral's renovation progress, while an afternoon at the Louvre Museum showcased the Mona Lisa and over 35,000 historical treasures.
Other highlights included guided tours of the Eiffel Tower, the Arc de Triomphe, and the Champs-Élysées, with some students opting to explore the opulence of the Palace of Versailles. Evenings were filled with enchantment, as many enjoyed a French Cabaret show, complete with a champagne toast.
In Paris, the group had the privilege of meeting Christophe Cusson, co-founder of NTF Energy, who shared insights into his journey as a banker and entrepreneur in the renewable energies sector. The experience culminated with a magical cruise on the River Seine beneath the sparkling lights of the Eiffel Tower.
According to Dr. Cook, studying abroad is a gateway to knowledge and experience. The carefully curated programs aim to foster global competency through guided learning, cultural immersion, and independent exploration. Research indicates the profound impact of such experiences, with 100% of students reporting improved GPAs and 93% securing employment within six months of entering the workforce.
Excitement is building for the next study abroad tour slated for May 18 in Italy. Dr. Cook envisions a journey through the winding vineyards and earthy farms that embody the heart of the Old Country, offering participants a taste of Italy through the lens of tradition.
For more information or to join the upcoming tour, visit 2526.us/tour24.